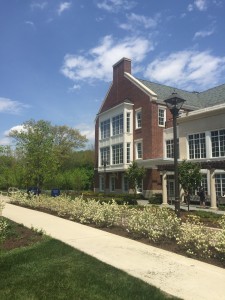 On-Campus Experience
Spring 2019
The Career and Community Studies Program offers group campus based experiences for students, families and educators who are unable to attend Open House and/or would like a glimpse of the academic courses and TCNJ campus.
On campus experiences are held on select Wednesday's and Friday's during the Fall/Spring semesters and run from 9:00 AM – 11:30 AM or 3:00 PM – 5:30 PM.
*Please refer to the preselected dates below to determine which schedule to anticipate during your visit.
The experience includes (in no particular order):
Brief Introduction to the CCS Program
Attendance in CCS Reverse Inclusive Course (Finer Things/Great Conversations*)
Campus mini-tour led by a CCS Mentor
If you are interested in attending one of the scheduled on campus experiences, please email the following information to ccs@tcnj.edu. You will be notified of availability on your requested date.
Name (First, Last)
Requested Visit Date (list of preselected dates shown below, please provide 1st and 2nd choice)
Email and Phone Contact Information
Age of Prospective Student, their grade level or year completed, current school, and school district
Number of People planning to attend and their affiliation to prospective student (limit 3 people including student unless approved by CCS)
Please indicate your interest status: First Time Applicant, Wait List Applicant, Returning Applicant, 2+2 Articulation (BCC Turning Point Students ONLY)
* Please note prospective students participate in the course. Parents/Educators attend the course as observers.
Spring 2019 Semester
* Select Wednesday's – Your campus experience will start by 3:00 PM and end by approximately 5:30 PM.
* Select Friday's – Your campus experience will start by 9:00 AM and end by approximately 11:30 AM.
Campus Experience Dates: 
Wednesday, February 13
Friday, February 22
Wednesday, March 6
Friday, April 12
Wednesday, April 24
* Please note Spring 2019 Campus Experience operates on a slightly different schedule than Fall 2018.