Thursday, April 21, 2022  |  Tour 5:00 PM / Information Session 5:45 PM
Education Building, The College of New Jersey
https://ccs.tcnj.edu/spring-open-house/
This In-Person* and via Zoom* Open House is geared towards prospective students and families. This session will provide insight into program specifics including academics, career readiness, independent living. Specific details will be shared about CCS new rolling admission, online application process, funding options and college related requirements. Campus tours will be offered before the information session.
If you are interested in learning about an inclusive post-secondary/transition experience for Spring 2022 or beyond, please complete the registration below.
Participants are required to wear face covering while indoors, regardless of vaccination status
Secure your spot today: https://ccs.tcnj.edu/spring-open-house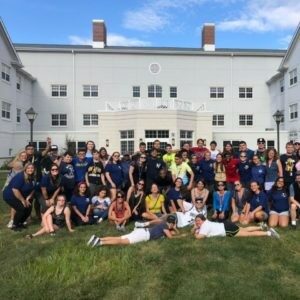 Click here to hear from our students.
Event Details
Registration is required: https://ccs.tcnj.edu/spring-open-house
Attendees: Prospective students, family, support coordinators and educators (please note due to COVID-19 safety policies there is a limit of three people per "party")
Date: Thursday, April 21, 2022
Time:  5:00 PM – Tour | 5:45 PM Information Session
Location: The College of New Jersey, 2000 Pennington Road, Ewing, NJ, 08618, Education Building Room TBA
Click here for an open house informational flier.
* Location/Format of event is subject to change based on COVID-19 restrictions